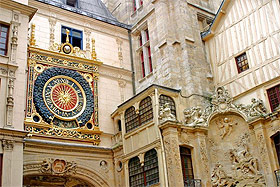 St Ouen Abbey, Saint Maclou Church or Renaissance style monuments like the Gros Horloge, Saint Maclou Ossuary and the Bourgtheroulde Mansion. Or you can also follow in the steps of William the Conqueror, Richard the Lion Heart, Joan of Arc, Monet some of the many characters who have been part of Rouen's history.
Fine Arts museum An outstanding collection of paintings, drawings and sculptures is complemented by furniture and other art objects.

Paintings by Caravaggio, Velázquez, Delacroix, Géricault, Modigliani, Monet and Sisley are amongst the most famous.